Cash flow is about more than what is in your bank account, it requires you to prepare for upcoming expenses and ensure a consistent flow of funds. This includes knowing what cash you need to generate to satisfy your business goals and having a strategy to achieve this. We explain how to do this in our free workbook.
Once you have an idea what you need to focus on to manage your cashflow, the next step is to set some goals and prepare a cash flow forecast. Ideally you want a forecast that is dynamic, that is it will automatically recalculate what your future looks like based on what has actually happened to date. This also forms the foundation of what you monitor in order to manage cash flow.
Monitoring isn't an end-of-quarter or end-of-month activity – it requires you to actively engage with your data.
Some items you might want to monitor are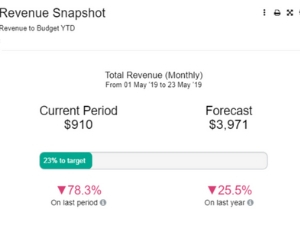 See where you are in comparison to your projected revenue. This helps you prioritise revenue creation by focusing time on closing open leads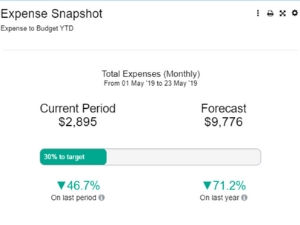 Similarly tracking where you are on your expense budget helps you to make new purchasing decisions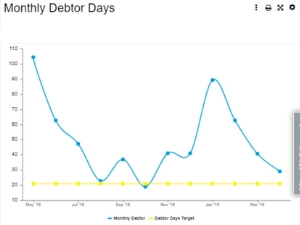 Set a target for Debtor Days (this is how long it takes your customers to pay you). If you are above your target, there will likely be a negative effect on your cash-flow. Pick up the phone and collect your overdue debts.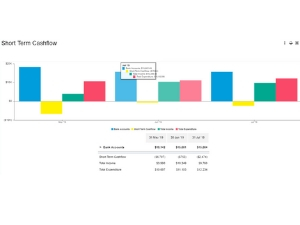 This will show you the projected cash-flow for the next few months. If your revenue was lower than expected this month or you had higher expenses, the projected bank balances will recalculate accordingly. See if this is going to cause any large problems over the next few months and take action to rectify (e.g. increase sales in following months, call your creditors and request better payment terms, collect overdue debts)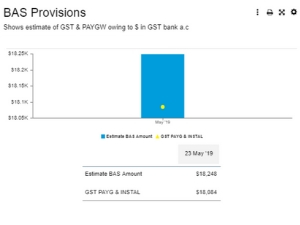 Many businesses now have a bank account that they put funds in to pay their ongoing liabilities such as GST, PAYGW and Superannuation. In this case we've set up a formula to calculate the current liability of these and compare it to the amount in the special bank account. This allows you to easily see any shortfall and transfer additional funds across from your everyday operating account so that you always have the cash on hand when your BAS is due.
Once you have a monitoring system in place it is much easier to avoid cash flow surprises. Knowing what is coming up and being able to have adequate time to take action means that you feel much more confident in your business.
Contact us to discuss how we can help you set up a monitoring system and plan for your business growth.